Image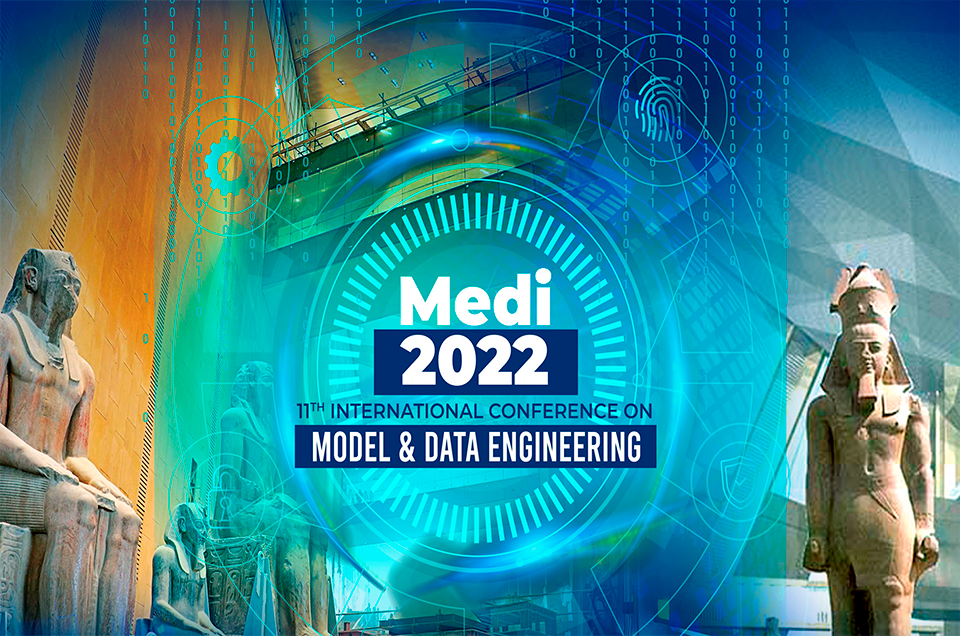 The Eleventh International Conference on Model & Data Engineering (MEDI)
The Eleventh International Conference on Model & Data Engineering (MEDI) will be held in Cairo, Egypt, from 21 to November 24, 2022. Its main objective is to provide a forum for disseminating research accomplishments and promoting the interaction and collaboration between the models and data research communities.
MEDI'2022 provides an international platform for presenting research on models and data theory and developing advanced technologies related to models and data and their applications. This international scientific event, initiated by researchers from Middle Eastern countries, also aims at promoting the creation of north-south scientific networks, projects, and faculty/student exchanges.
Topics of interest Specific areas of interest to MEDI 2022 include but are not limited to:
Modeling and Models Engineering.
 Modelling languages and related standards.
 Modelling in software and complex system engineering.
 Formal methods, analysis, verification & validation.
 Model-based testing and performance analyses.
 Ontology-based modeling.
 Heterogeneous modeling, model integration, interoperability, model transformation,
 Collaborative modeling and model repositories.
 Models as services and models monitoring.
 Modelling for reuse, dependability, and maintainability.
 Models for security, trust, and risk.
 Models for Big Data & NoSQL databases Data Engineering.
 New models and architectures for databases.
 Heterogeneous data, data Integration, Interoperability.
 Data warehouses, OLAP, data mining, and Analytics.
 Extending Data Warehousing Technology.
 Database system Internals, performance analysis, self-tuning benchmarking, and testing.
 Database security, personalization, recommendation.
 Web databases, ontology-based databases.
 Service-based data management.
 Service-oriented applications.
 Urbanization of database applications.
 Data models for IA techniques and Machine Learning Applications and tools.
 Industry transfer, experiences.
 Applications of modeling for Data Management.
 Applications of modeling for Biomedical data and systems.
 Modelling tools and experimentation.
 Lessons learned and reports related to models/data
Engineering Keynote Speakers Vincent S Tseng: Distinguished Professor, Dept.
Computer Science, National Chiao Tung University, Taiwan Athman Bouguettaya:
Professor, The University of Sydney, Australia Important Dates Abstract submission:
July 4, 2022 Full-paper submission:
July 11, 2022 Acceptance notification:
August 26, 2022, Early bird registration:
September 23, 2022, Camera-ready:
September 23, 2022